A Field Guide to Abstraction in the Muswellbrook Collections
Abstraction: An Introduction
By Brad Franks
"Art is a means by which the present is connected with the past and human beings with the supernatural world. Art activates the powers of the ancestral beings. Art expresses individual and group identity, and the relationships between people and the land."

– Wally Caruana, Aboriginal Art, 1993.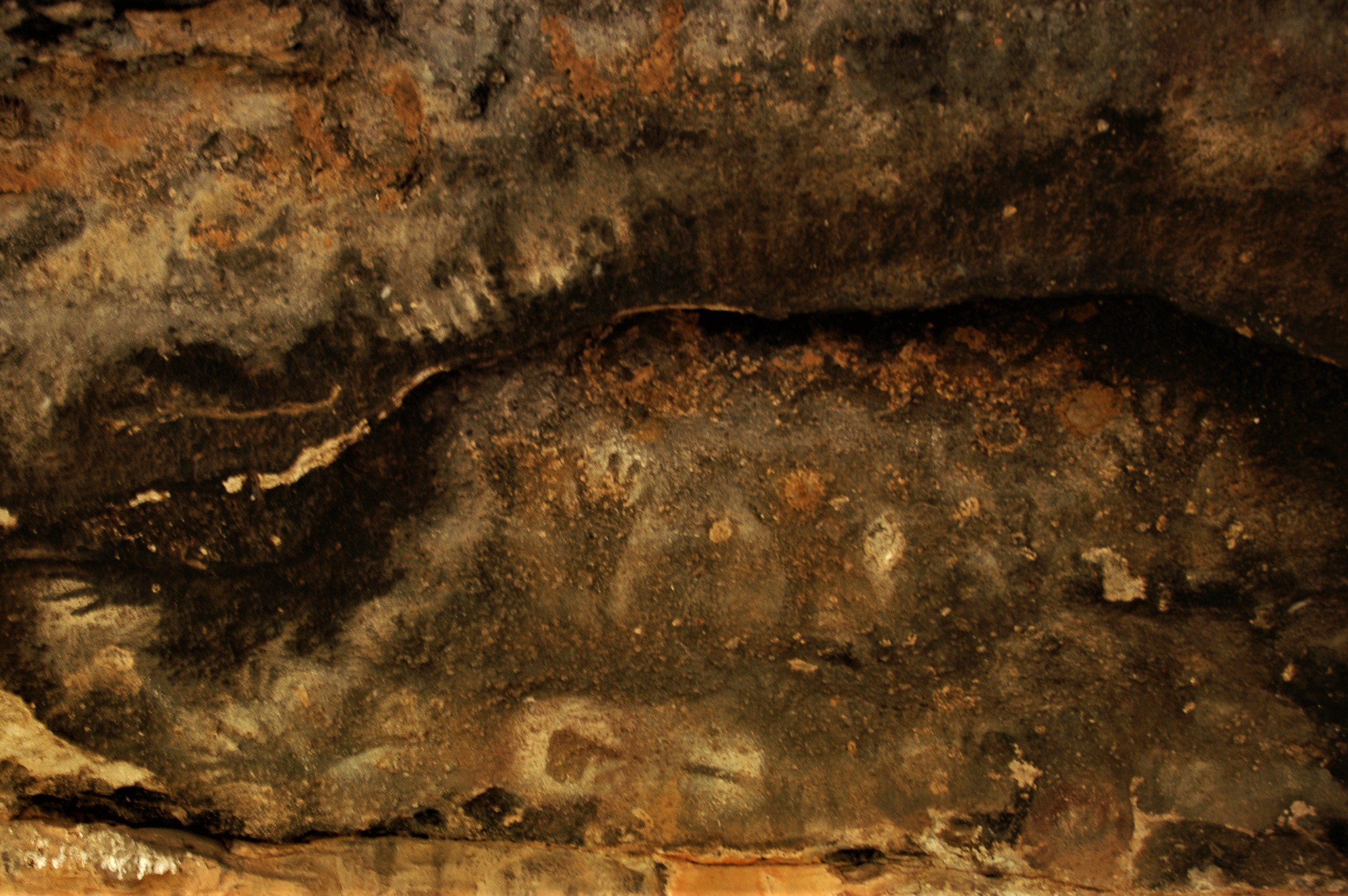 Image: Blackfellows Cave, nestled beside a bend of the Widden Brook in the Widden Valley, showing 'tally marks' running along an edge of the sandstone overhang above hand and tool stencils © Brad Franks 2006
When the first people entered those dim, dark recesses and began making scratches on the cave walls and ceilings, was this the beginnings of a numerical system or was this abstract art? Archaeologists have referred to these rock engravings as 'tally marks' but this is a modern conceit. The tally mark transferred from engraving (or petroglyphs) to paint but still, no one knows the meaning.
There is a sandstone overhang in the Widden Valley not far from Muswellbrook, in which the layers of Aboriginal artwork reveal silhouettes of an axe-like object, hands and arms called Blackfellows Cave. This Blackfellows Cave site also features a row of 'tally marks' running along the top of the shelter. Another Aboriginal site, situated on the banks of the Goulburn River, features 'pebble' or pecked engraved concentric circles, lines and emu feet, and is estimated to be at least 15,000 years old.
The earliest recorded rock art around the world is consistently of geometric pattern-making styles, seemingly totally abstract and symbolic in meaning. These include geometric signs, lattices and grids, circles, triangles, cupules and meander petroglyphs, and of course the 'tally marks'. Such art reaches back in time some 300,000 years.
Fast forward to the 20th Century and the crisis in representational art in the Western world.
"Art does not reproduce the visible; rather, it makes visible."
– Paul Klee, Creative Credo, 1920.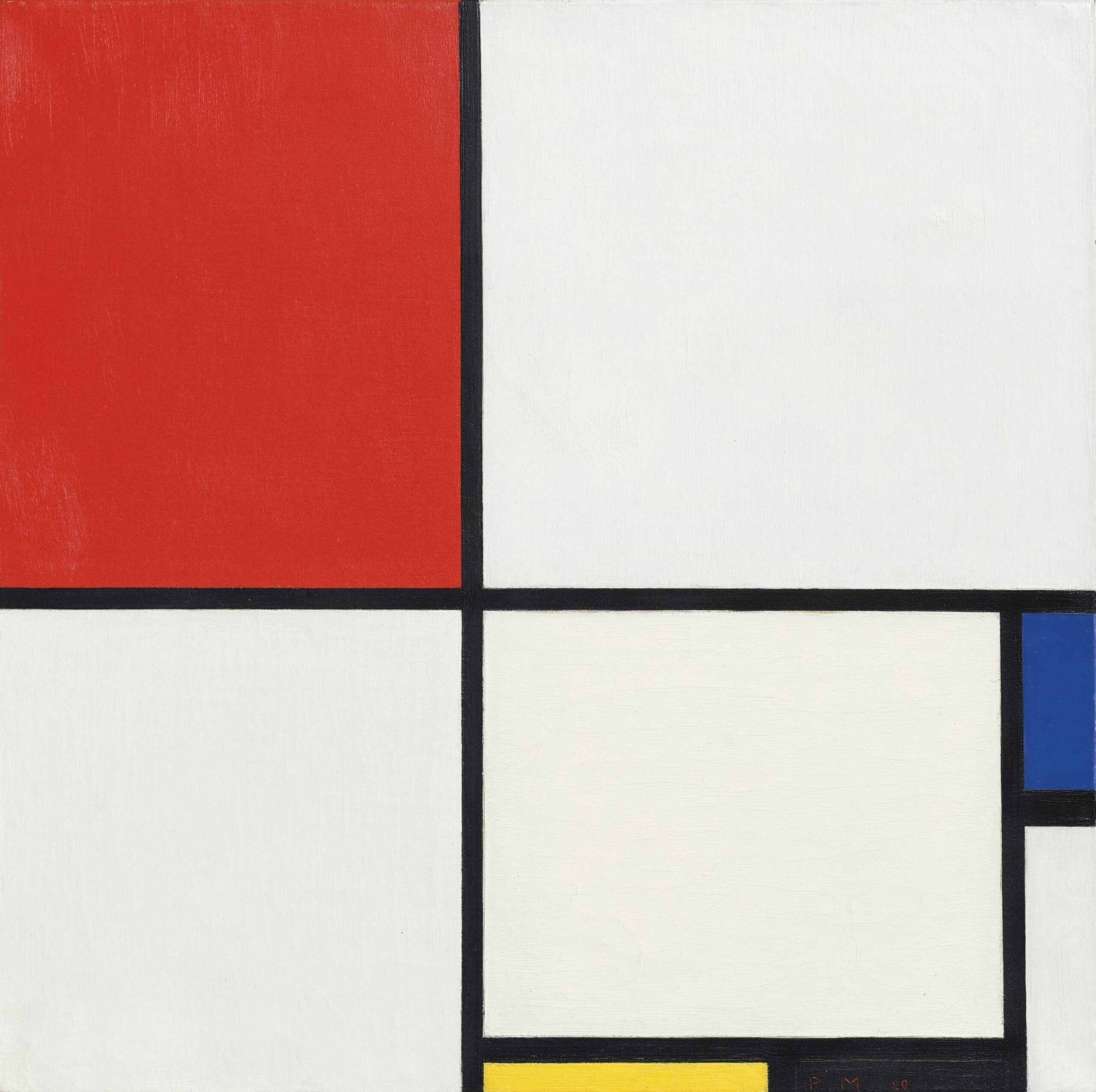 Image: Piet Mondrian, Composition No. III, with red, blue, yellow and black 1929, oil on canvas, 50 × 50.2cm, private collection. This work is in the public domain in its country of origin and other countries and areas where the copyright term is the author's life plus 70 years or fewer.
Following the development of cubism by Georges Braque and Pablo Picasso in France, in the period from 1907 to around 1915 the pictorial depiction of the real or external optical world underwent a series of changes that would seem to have led inescapably to abstraction. The true story is far more complicated, and the role and example of the expressionists such as Henri Matisse and Ernst Ludwig Kirchner (the Fauve and Die Brücke groups respectively) cannot be underestimated. The approach to abstraction was in the end to take two very distinct, and very different roads.
The aftermath of WWI saw the formation of the De Stijl group in Holland – a group of artists, designers and architects who saw WWI as 'the end of history', and proposed a new austerity and spiritualism to take the human race forward. Among the founders of this group was the painter Piet Mondrian, who by 1919 had reduced the picture plane to a grid of coloured squares outlined in black. Mondrian and his followers would take art into an abstraction of geometric shapes and primary colours. The constructivist and formal world of abstraction had arrived.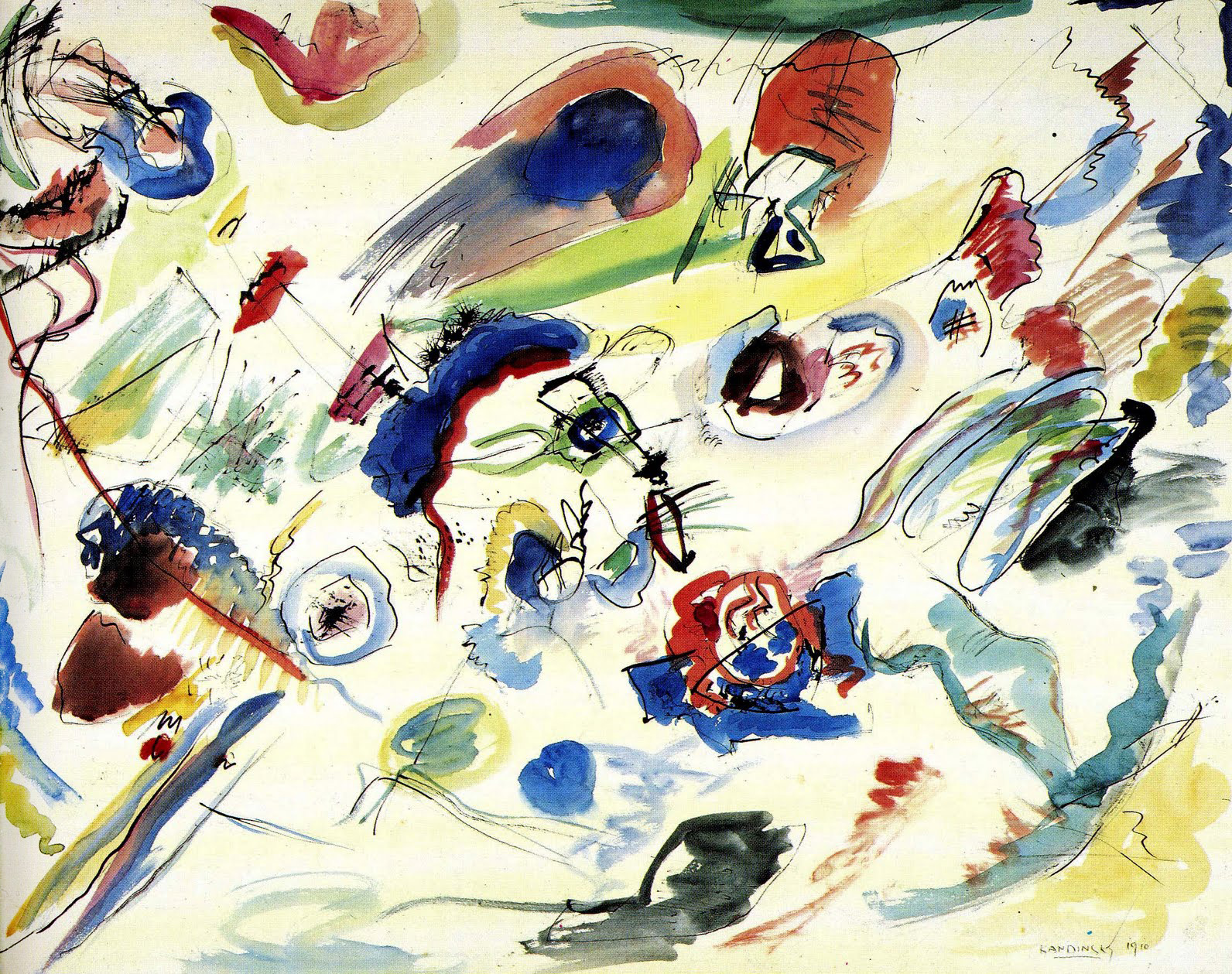 Image: Wassily Kandinsky, Untitled (Abstract Watercolour) 1910, graphite, Indian ink and watercolour on paper 49.6 x 64.8cm, Musée National d'Art Moderne Paris, France, donated by Nina Kandinsky. This work is in the public domain in its country of origin and other countries and areas where the copyright term is the author's life plus 70 years or fewer.
At about the same time in Munich, the Russian artist Wassily Kandinsky formed the Der Blaue Reiter group with fellow expressionist artists, including Paul Klee and Franz Marc. By 1910, Kandinsky had painted the first of his completely abstract paintings, with titles such as Untitled (Abstract Watercolour). Again, spiritualism played a big part in the development of abstraction by Der Blaue Reiter although, unlike the formal monastic austerity of De Stijl, the spirituality of Der Blaue Reiter was shot through with mysticism and intuition.
In Australia the question of who, when and where the first antipodean abstract artwork was made has been a debate that has raged for many years. It is undoubtedly a meaningless question but, the answer is probably twofold, not unlike the development of abstraction in Europe.
The work most commonly attributed as the first work of abstraction in Australian art is Roy de Maistre's Rhythmic Composition in Yellow Green Minor 1919. This may or may not be true. The painting was part of an exhibition held in Sydney that year by de Maistre and Roland Wakelin – two leading exponents of what has become known as post-impressionism. While this particular painting seems a long way from post-impressionism it may not be, for the exhibition was of works the two artists called 'synchromies' – paintings where the colours and forms corresponded to music.
Unfortunately, de Maistre's Rhythmic Composition in Yellow Green Minor appears to be the only surviving work from this exhibition, an exhibition that was savaged by the critics of the day. Both de Maistre and Wakelin returned to more conventional representational art soon after the 'synchromies' although, de Maistre was to continue to experiment with cubism and surrealism throughout his successful career.
Abstraction next appears in Australian art some fifteen years after the 'synchromies'. In 1933, a young artist in Melbourne, Sam Atyeo exhibited abstract paintings including the justly famous Organised Line to Yellow. Atyeo was an 'Enfant Terrible' of the Melbourne art scene of the time and quickly became a part of the circle of artists around John and Sunday Reed. He was restless and unsure of how to proceed with his abstract art. Like the 'synchromies' in Sydney, his work was inspired by his reactions to music and Organised Line to Yellow is based on a piece by Bach, the Double Concerto in D Minor. By 1937, Atyeo had given up art entirely (although he returned to painting abstracts in the 1960s which were exhibited in Melbourne).
In 1939, what is probably the most famous/infamous abstract painting of the inter-war years appeared. Sidney Nolan had been making abstracted images during the late 1930s, experimenting in various media including photograms (photos made without a camera) and with a variety of materials and medium not associated with 'high art' such as boot polish, producing abstract works strongly influenced by looking at reproductions of Paul Klee's work. By 1939, Nolan was creating collages that while surrealist in inspiration, took a rather formal and geometric grid to dislocating the human body and the landscape. That same year, Nolan painted Boy and the Moon. This painting was to tear apart the Contemporary Art Society (CAS) in Melbourne. A newly formed organisation to promote modernism in Australian art, the CAS was completely split over whether Nolan's painting Boy and the Moon was even art and refused to hang the picture in their 1940 exhibition. The painting was met with a similar reaction when it was exhibited by the Sydney branch of the CAS shortly after.
1939 was also the year the first exhibition of works by major modernist European artists of the 20th Century was to tour Australia (Adelaide, Brisbane, Hobart, Launceston, Melbourne and Sydney). The exhibition was entitled The Herald Exhibition of French and British Contemporary Art, due to the sponsorship and curatorial influence of the Melbourne newspaper The Herald. The 215 artworks were chosen by Basil Burdett, then art critic for The Herald. From today's perspective, the Herald Exhibition looks inherently conservative overall but to the artists, writers and public of 1939 it was a revelation, including works that would influence the development of abstraction in Australia. Artists represented included the surrealists, Salvador Dalí, Giorgio de Chirico, Max Ernst, Paul Nash and Edward Wadsworth; expressionists, Maurice de Vlaminck, Raoul Dufy, Henri Matisse, Georges Rouault, Chaïm Soutine; post-impressionists, Pierre Bonnard, Paul Cézanne, Henri de Toulouse-Lautrec, Paul Gauguin, Georges Seurat, Walter Sickert, Vincent Van Gogh; individuals, like Marc Chagall, Marcel Gromaire, Frances Hodgkins, Amedeo Mondigliani, Odilon Redon, Stanley Spencer, Graham Sutherland, and; perhaps most important in the development of abstraction, the cubists, Georges Braque, Juan Gris, Fernand Léger, Pablo Picasso, and British abstract painters, Ben Nicholson and Victor Passmore. This was the first 'blockbuster' exhibition of modern and contemporary art to tour Australia and the surge in radical and modern art that followed during the 1940s was in part, a response to this momentous event.
"…and this caused a terrific upheaval in Melbourne amongst the younger painters because we were seeing for the first time original Picasso's, Matisse's and Braque's and Cézanne's – all kinds of things, and this was the most important thing in everybody's life and in mine, and at twentyone I kind of jumped off the cliff then with no money 21 really but a great idea of being a painter, and I did paint furiously for a year in a very experimental way. At the end of the year, I then produced an exhibition, the first one I had, and this caused a great hullabaloo – nobody wanted any and somebody came in – threw green paint over a number of them – they didn't like them at all, obviously."

– Sidney Nolan, speaking in the documentary Nolan by Sally Atken, 2018.
The Herald Exhibition was not only influential but also highly controversial, prompting the then Director of the National Gallery of Victoria, J.S. MacDonald, to describe the touring artworks as having been made by 'degenerates and perverts'. The artist and commentator Lionel Lindsay ascribed modern art to a conspiracy by Jews in his book Addled Art published in 1942. The ugly anti-Semitic aspect of conservatism in Australia had raised its head and the battlelines in the crisis of art in the 1940s and beyond had been drawn.
In 1940, another event was to help galvanise and influence the development of modernism and abstraction in Australia – the arrival of the Bauhaus student and teacher Ludwig HirschfeldMack. Hirschfeld-Mack was not only an abstract painter and accomplished printmaker but, one of the pioneers of abstract projected light works (1923) that would so influence the art of the 1960s. Hirschfeld-Mack had left Germany in 1936 to escape the Nazi regime and had been teaching art in Britain when WWII broke out. Interned as a German national and then deported to Australia in 1940, Hirschfeld-Mack soon found himself teaching art at Geelong Grammar School in Victoria. His first exhibition in Australia took place in 1946 at the University of Melbourne, with works interpreting the Australian landscape. He also contributed to the Contemporary Art Society exhibitions of the late 1940s in both Melbourne and Sydney. His major influence in Australia where he continued to live until his death in 1965, was in bringing Bauhaus ideas and methods to art teaching, particularly in Victoria where he had formal input into the art curriculum for secondary schools. Following his retirement from teaching in 1957, Hirschfeld-Mack again focused on his own art production and a significant solo exhibition was held at Gallery A in Melbourne in 1960. The following year the Australian abstract painter Janet Dawson organised an exhibition surveying the work produced by the Bauhaus entitled The Bauhaus: Aspects and Influence, which featured many works drawn from Ludwig Hirschfeld-Mack's personal art collection and included works by Hirschfeld-Mack's colleagues and friends Josef Albers, Lyonel Feininger, Paul Klee, Oskar Schlemmer and Lothar Schreyer among others. The Bauhaus exhibition was to have a significant influence on the development of abstract art in Australia during the 1960s. The exodus of artists from Europe during and after WWII was a major impetus for abstract art both here in Australia and in the USA. While young Australian artists were trying to get to Europe, a large group of already mature European artists made their way to Australia.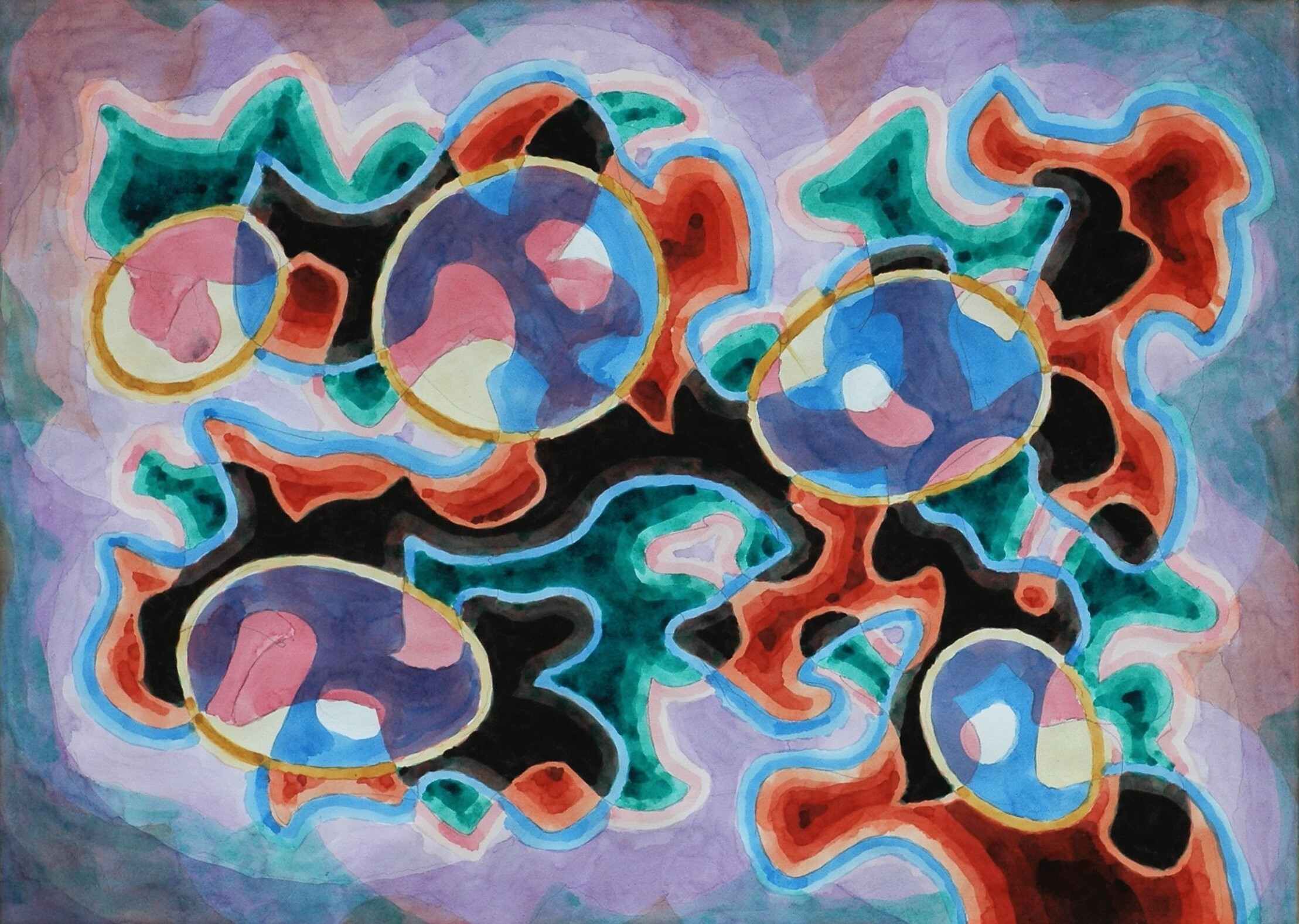 Image: Weaver Hawkins, Spontaneous Design 15 1966, watercolour on paper, 55 x 75cm, Muswellbrook Shire Art Collection, Winner Work on Paper Prize, Muswellbrook Art Prize 1966, Muswellbrook Regional Arts Centre, Muswellbrook NSW © The artist.
Ludwig Hirschfeld-Mack was not alone. Following WWI, the rise of fascism began with Mussolini and the Black Shirts in Italy and spread across Europe to the beginning of WWII in 1939. The desolation and poverty of Europe following the end of the war in 1945 was a further factor in the mass migration of people, including many artists, from Europe to the rest of the world. Australia was particularly chosen by those coming from the United Kingdom and the Eastern European countries.
While by no means a comprehensive list, the following thirty, significant Australian artists demonstrates this exodus from Europe. While not all these artists were abstractionists, they were all modernists. Most were not only practising artists but, like Ludwig Hirschfeld-Mack, teachers in the secondary and art schools across Australia.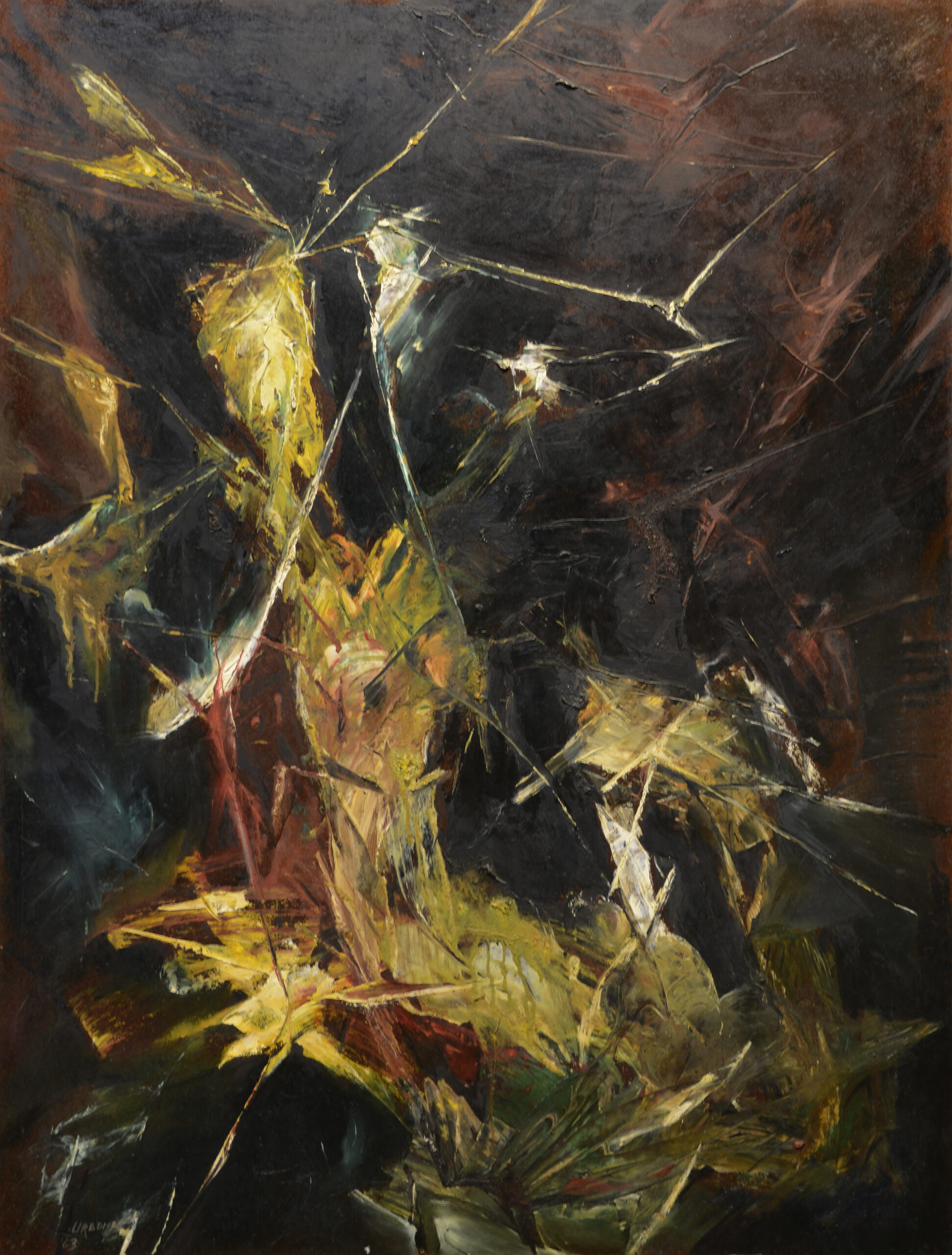 Image: Leonas Urbonas, Sojourn 1963, oil on hardboard, 122 x 92cm, Max Watters Collection, Muswellbrook Regional Arts Centre, Muswellbrook NSW © The artist.
Harry de Hartog, born 1902 Rotterdam, Holland, arrived Australia 1923
Ian Fairweather, born 1891 Stirling, United Kingdom, arrived Australia 1934
Margel Hinder, born 1906 Brooklyn, U.S.A., arrived Australia 1934
Danila Vassilieff, born 1897 Kagalnickaja, Russia, arrived Australia 1935
Weaver Hawkins, born 1893 London, United Kingdom, arrived Australia 1935
Sali Herman, born 1898 Zurich, Switzerland, arrived Australia 1937
Yosl Bergner, born 1920 Vienna, Austria, arrived Australia 1937
Elise Blumann, born 1897 Parchim, Germany, arrived Australia 1938
Desiderius Orban, born 1884 Gyor, Hungary, arrived Australia 1939
Godfrey Miller, born 1893 Wellington New Zealand, arrived Australia (via U.K.) 1939
Tony Tuckson, born 1921 Ismalia, Egypt, arrived Australia 1946
Stanislaus Rapotec, born 1913 Trieste, Italy, arrived Australia 1948
Leonas Urbonas, born 1922 Zarasai, Lithuania, arrived Australia 1948
Henry Salkauskas, born 1925 Kaunas, Lithuania, arrived Australia 1949
Ursula Laverty, born 1930 London, United Kingdom, arrived Australia 1949
Rennis Zusters, born 1918 Odessa, Russia, arrived Australia 1950
Josef Stanislaw Ostoja-Kotkowski, born Golub, Poland, arrived Australia 1950
David Aspden, born 1938 Bolton, United Kingdom, arrived Australia 1950
Judy Cassab, born 1920 Vienna, Austria, arrived Australia 1951
Mirka Mora, born 1928 Paris, France, arrived  Australia 1952
William Peascod, born 1920 Maryport, United Kingdom, arrived Australia 1952
Asher Bilu, born 1936 Tel Aviv-Yafo, Israel, arrived Australia 1957
Richard Larter, born 1929 London, United Kingdom, arrived Australia 1962
Gunter Christman, born 1936 Berlin, Germany, arrived Australia 1952
Mimi Jaksic-Berger, born 1936 Pomazatin, Serbia, arrived Australia 1959
Alun Leach-Jones, born 1937 Maghull, United Kingdom, arrived Australia 1959
Roy Jackson, born 1944, Surry, United Kingdom, arrived Australia 1960
Fred Cress, born 1938 Poona, India, arrived Australia 1962
Michael Allen Shaw, born Isle of Wight, United Kingdom, arrived Australia 1963
Suzanne Archer, born 1945 Guilford, United Kingdom, arrived Australia 1965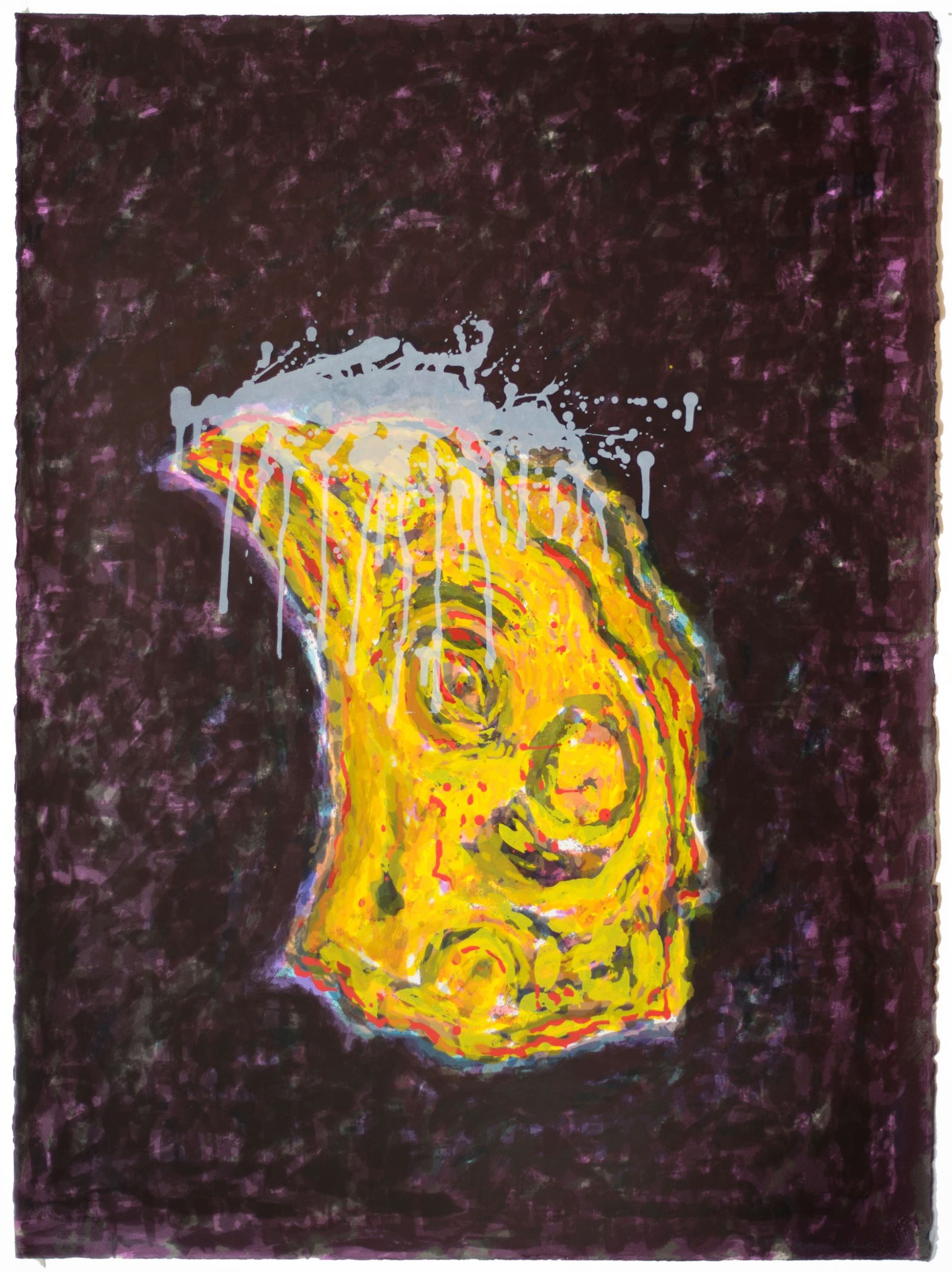 Image: Suzanne Archer, Remains of the Day 2015, silkscreen print on paper, 77 x 58cm, Printed by Michelle Perry at Marnling Press, Muswellbrook Shire Art Collection, Muswellbrook Regional Arts Centre, Muswellbrook NSW, Gift of the artist 2016 © The artist.
These artists brought with them the European sensibilities, history and art training of their homelands, and a far more cosmopolitan and unified outlook than had prevailed in Australian society and culture during the first half of the 20th Century. They had a profound influence on the type of abstract art that would flourish in Australia – an art totally different from that of the U.S.A. in the 1950s.
Desiderius Orban as an example, established his art school in Sydney in 1943, the year of his first solo exhibition in Australia. Over time, his many students included some of Australia's leading modernists and abstract artist such as Margo Lewers, John Olsen, Harry Thornton, John Coburn, Yvonne Audet, James Clifford, Virginia Cuppaidge and John Ogburn. Orban's reach was immense. Apart from teaching and exhibiting, he published three books on art theory, presented annual summer schools from 1957-1967 at the University of New England in Armidale NSW, and gave Armchair Chats on ABC Radio. He was also extensively involved in arts administration beginning with his Presidency of the NSW branch of the Contemporary Art Society from 1946- 1949.
Orban's own work displays the lessons of his European heritage and the long and sometimes dour quest for a definitive style and subject. In the 1960s, he embraced the spiritual and mystical side of abstraction. This, along with a will to experiment to the extreme with media (insulation, metal foil, plastics, polystyrene etc.), lifts his work to whole new planes of expression, justifying his vision.
Elwyn Lynn in his 1988 essay for the exhibition at The Lewers Bequest and Penrith Regional Gallery, Desiderius Orban and Selected Students, said that Desiderius Orban set himself to 'discover the world beyond appearances; and through studying Zen Buddhism, aimed to imbue his art with a simplicity and radiance and to reflect the inner self'.
While Orban and other European émigrés were bringing the European approach directly to Australian art, much of their emphasis was on freedom of expression.
"Art is a kind of freedom, which no other human activity can be compared with, especially visual art."
– Desiderius Orban, James Gleeson Interviews: Desiderius Orban c. September 1979, transcript from James Gleeson Oral History Collection, National Gallery of Australia, 2015.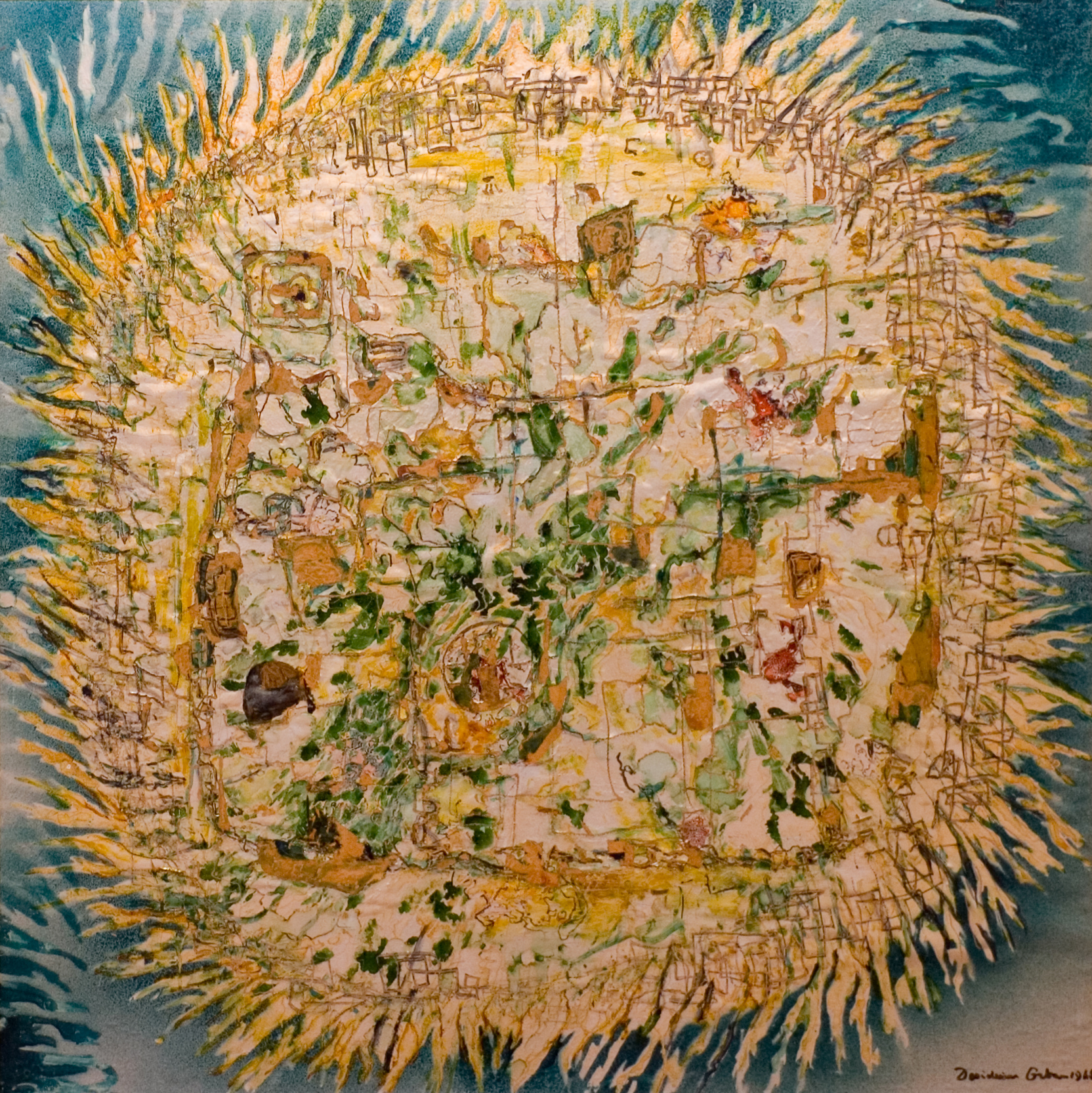 Image: Desiderius Orban, Genesis 1968, mixed media on foil, 122 x 122cm, Muswellbrook Shire Art Collection, Muswellbrook Regional Arts Centre, Muswellbrook NSW, Gift of the artist 1972 © The artist.
The 1950s saw the two distinct schools of abstraction develop rapidly in Australia. Artist's such as Godfrey Miller pursued the formal, monastic line of abstraction as developed in Sydney by Frank and Margel Hinder, Grace Crowley and Ralph Balson following WWII. This was in direct decent from Bauhaus, De Stijl and Mondrian. Others such as John Passmore moved towards the abstract expressionist style. Passmore was born and bred in Redfern, Sydney and while he spent many years in England, his greatest successes came after his return to Sydney in 1951. He became a leading light of the nascent abstract movement, teaching at East Sydney Technical College (later known as the National Art School) until 1962, with students that included John Olsen, Colin Lanceley, John Firth-Smith, Ann Thomson and Keith Looby. Passmore exhibited regularly and in 1956, was one of the leading lights in the seminal abstract exhibition Direction 1, held in Sydney at the Macquarie Galleries. Direction 1 included Robert Klippel, John Olsen, William Rose and Eric Smith. The exhibition was organised by Passmore with Olsen, Klippel and Rose. Other Sydney based artists responded, such as John Coburn, Frank Hodgkinson and Leonard Hessing. Ian Fairweather began to exhibit at the Macquarie Galleries and became possibly Australia's greatest abstract expressionist. By the early 1960s, Sydney became the hub for the younger generation of abstract painters, of whom Brett Whiteley was almost instantly the best known as well as one of the best. Many of these artists took as their starting point the kind of freedom to be found in the teachings of an Orban or a Passmore. The spiritual and the mystical search for freedom seems in many ways to be part of the DNA of the abstract expressionist movement. Whether the starting point is Wassily Kandinsky or Jackson Pollack, the objective is to express oneself.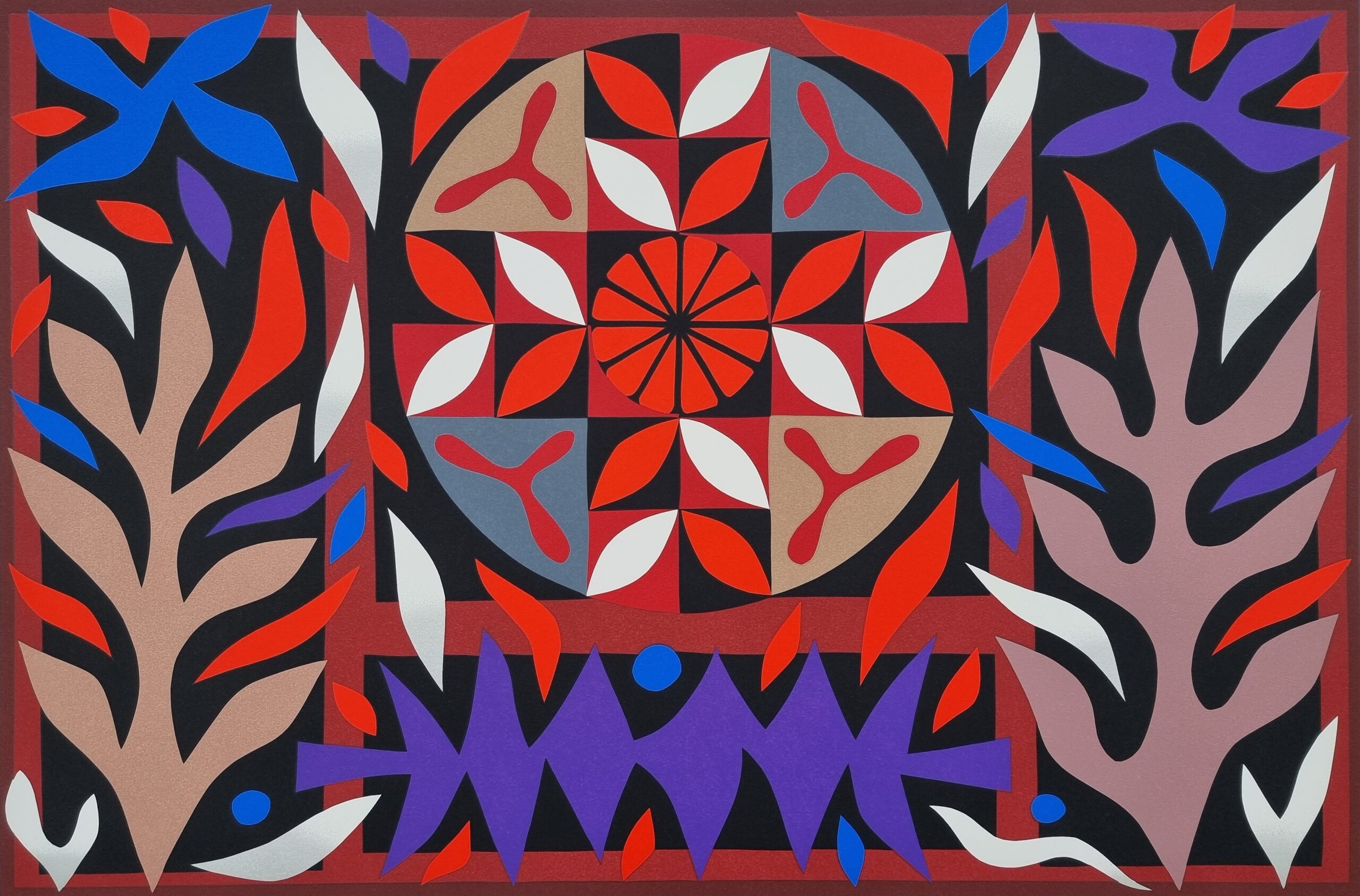 Image: John Coburn, Death and Transfiguration 1988, screenprint on paper, 42 x 72cm, Muswellbrook Shire Art Collection, Muswellbrook Regional Arts Centre, Muswellbrook NSW, Purchased by Muswellbrook Shire Council 2019 © Copyright Agency.
This expression of the inner self; the quest for the personal genius and the inner truth; and the lack of a political agenda in the work of the Sydney abstractionists; would inevitably lead to a backlash. Just as inevitably, this backlash would come from Sydney's nemesis, Melbourne. The inheritors of the Angry Penguins – figurative and narrative artists led by one of Australia's foremost art critics and thinkers, Bernard Smith – became The Antipodeans. In August 1959, Arthur Boyd, David Boyd, John Perceval, Charles Blackman, John Brack, Clifton Pugh and Robert Dickerson held an exhibition at the Victorian Artist's Society with a polemic catalogue written by Smith, under the title The Antipodean Manifesto. It was a call to arms in the perceived battle of an inherently Australian art against the internationalism of abstraction. The Manifesto was signed by Smith and all the exhibiting artists. The crisis in Australian art had reached fever pitch.
"Tachistes, Action Painters, Geometric Abstractionists,…Abstract Expressionists…not an art sufficient for our time…not an art for living men"

– Bernard Smith, The Antipodean Manifesto, 1959.
This was heady stuff, battlelines were drawn, and the reputations of Australia's two major cities were on the line, not to mention the cultural cognoscenti. The Sydney artists responded with a series of exhibitions by abstractionists in 1961, called The Sydney Nine. The artists Henry Gilliland, Leonard Hessing, Clement Meadmore, John Olsen, Carl Plate, Stanislaus Rapotec, William Rose, Eric Smith and Peter Upward exhibited first in Sydney and then took their show to Melbourne, where it caused uproar.
In retrospect the crisis appears to have soon been over. Abstraction in all its varied forms was practised throughout Australia during the 1960s, reaching a seeming zenith with the exhibition The Field, held in the very heartland of The Antipodeans, when the National Gallery of Victoria opened its new premises on St. Kilda Road. This was the first comprehensive survey of abstract colourfield and minimalist paintings and sculptures by forty mostly up-and-coming and mostly young, Australian artists. It seemed that abstraction had won the battle and ended the crisis. Artists in The Field included David Aspden, Sydney Ball, Tony Coleing, Gunter Christman, Janet Dawson, Col Jordan, Michael Kitching, Alun Leach-Jones, Clement Meadmore and John Peart.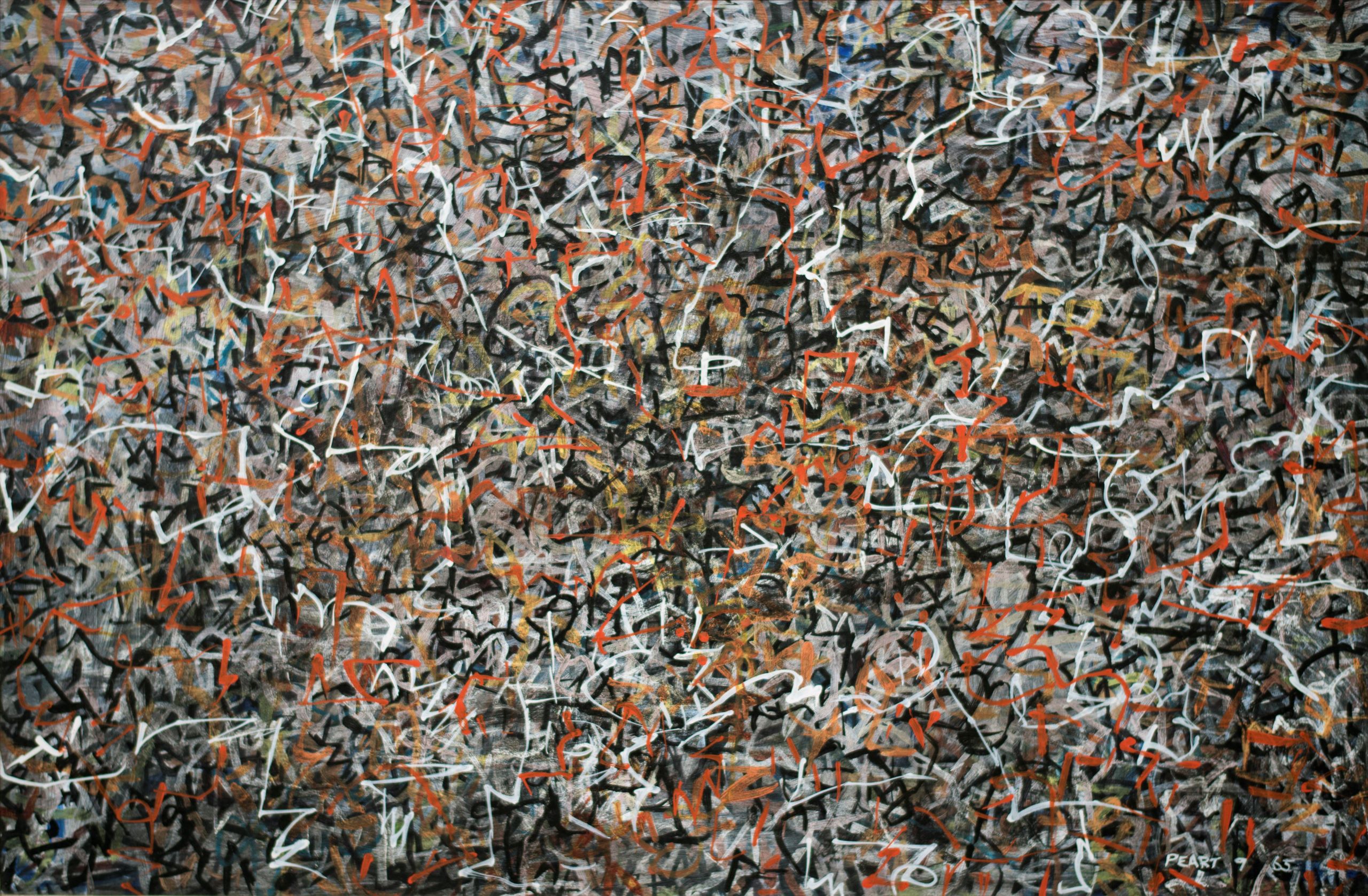 Image: John Peart, Abstract 1965, acrylic on hardboard, 60 x 90cm, Max Watters Collection, Muswellbrook Regional Arts Centre, Muswellbrook NSW © Courtesy of the artist's estate.
The art practice of an entire country is however rarely this simple or straight forward. Many of the artists included in The Field would abandon abstraction later in their careers, some were only really one step removed from pop art, and a number were already on the brink of post-modernism. The impact of The Antipodeans actions, and the ensuing arguments between the warring sides, had a much more lasting effect on the development of Australian abstraction than was at first apparent. The Antipodeans were defeated but, in that defeat laid victory of a sort. While the kind of narrative painting that had been developed by artists like Sidney Nolan, Arthur Boyd and Charles Blackman would remain a significant strand of Australian art, the figure and the landscape would inject themselves back into abstract art as an incognito subject matter. If abstract art had intended to rid the painted surface or the structure in space of any reference to the natural world, of any representation, then after a time it failed. But is this a failure? Many artists and critics have seen the pure abstract as a dead end – the end of the road for 20th Century modernism.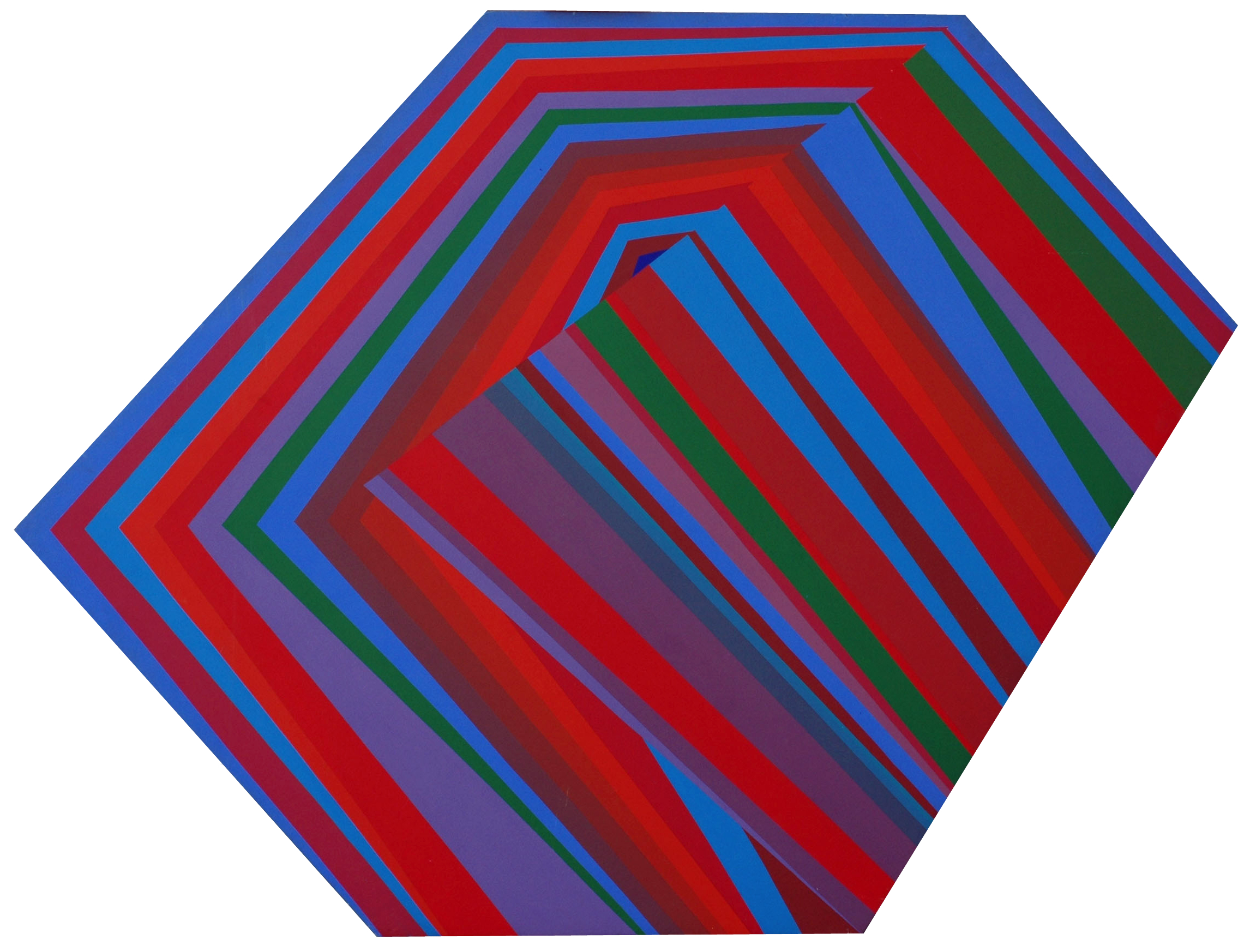 Image: Col Jordan, Daedalus Series No. 10 1968, acrylic on linen on hardboard, 138 x 185cm, Muswellbrook Shire Art Collection, Muswellbrook Regional Arts Centre, Muswellbrook NSW, Winner, Muswellbrook Art Prize 1968, Open Painting Section. © The artist.
"A few months before he died, Jackson Pollack told an interviewer that he did not care for such labels as 'abstract expressionist', 'non-objective' and 'non-representational'. He went on 'I'm very representational some of the time, and a little bit all of the time. When you're painting from your subconscious, figures are bound to emerge.'"

– Martin Gayford quoting Jackson Pollack in A History of Pictures: From the Cave to the Computer Screen by David Hockney & Martin Gayford, 2016.
Jackson Pollack died in 1956.
In 1957, Muswellbrook was in the throes of its own cultural revolution. A group of artists and supporters had the ear of the then Muswellbrook Municipal Council and convinced the Council to hold an inaugural Muswellbrook Art Prize as part of the Festival of the Valley. To this end the Muswellbrook group, which included Viola Bromley, and Frank and Max Watters, contacted the prominent Australian abstract artist, Thomas Gleghorn. Gleghorn had been a supporter of the Direction 1 group and was deeply involved in the Sydney abstract scene. Thomas Gleghorn was born in Thornley in the United Kingdom in 1925, with his family moving to Australia in 1928 and settling in Warners Bay on Lake Macquarie in the Lower Hunter Region. Gleghorn completed his engineering apprenticeship at the BHP Steelworks in Newcastle during WWII but, it was the technical drawing aspect of engineering that he most enjoyed. By 1949 he was painting and in the same year won a local art prize. It was after this, at the Art Gallery of NSW Gleghorn saw William Dobell's Portrait of Margaret Olley 1948, and Storm Approaching Wangi 1948. These works convinced Gleghorn that art, and in particular painting, were the career for him. On returning to the Hunter Valley, Gleghorn tracked down William Dobell at Wangi on Lake Macquarie and convinced him to be his mentor and teacher. By the time the Muswellbrook group approached him in 1958, Gleghorn was a successful and prominent artist, also exhibiting at Macquarie Galleries, Sydney and about to have his first major solo exhibition in a public gallery, at the Newcastle City Art Gallery. This Newcastle exhibition put Gleghorn in contact with the inaugural Director of the Newcastle Gallery, Gil Docking. In the run up to Muswellbrook's first acquisitive Art Prize, Gleghorn organised what was to be Muswellbrook's first major exhibition of contemporary Australian painting which included many of his fellow Sydney abstractionists. It was Muswellbrook's own Herald Exhibition.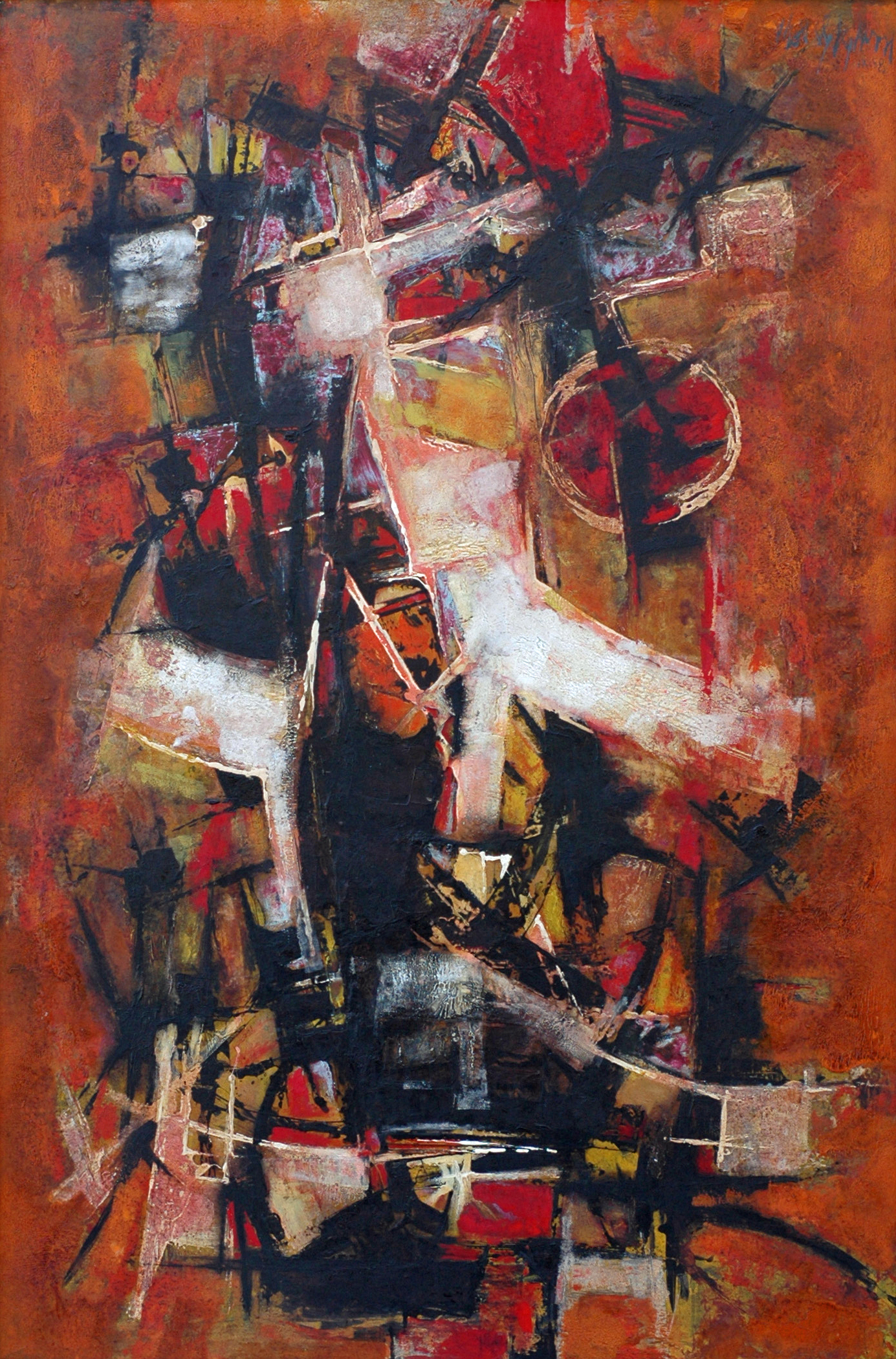 Image: Thomas Gleghorn, Death of Voss 1958, oil on hardboard, 137 x 91cm, Muswellbrook Shire Art Collection, Muswellbrook Regional Arts Centre, Muswellbrook NSW, Winner, Festival of the Valley Art Prize 1958, Open Section © The artist.
The 1958 Festival of the Valley included the Muswellbrook Art Prize which, thanks to the lobbying of the Muswellbrook Art Prize Committee (as the group had become), was now sponsored by the Muswellbrook Municipal Council. Gil Docking was the adjudicator and there were two sections – an open one, and a section for local artists. Thomas Gleghorn won the Art Prize with his abstract painting Death of Voss 1958, and Viola Bromley won the local section with Rock Patterns 1958 – also abstract. The Muswellbrook Shire Art Collection was off to a dramatic and abstract start. The drama revolved around the consternation of some locals who found the winning paintings incomprehensible at best. But the dye was cast as the Muswellbrook Art Prize continued to be dominated during the 1960s and 1970s by abstract art. In 1959, the Prize was won by Margot Lewers with By the River c. 1958; in 1960, the Prize was again won by Thomas Gleghorn with Arnhem 1 1960; in 1961, Roy Fluke with Shipyard Nocturne, Wyalla 1961; in 1962, John Ogburn with Stubble Time 1962; in 1963, Elwyn Lynn with Across the Black Soil Plains 1960; in 1964, Fred Williams with Sherbrooke Forest 1964; and in 1965, William Peascod with Landscape Theme No. 5 1965.
In 1966, the Prize winner was not an abstract painter but the conceptualist and sculptor Michael Kitching, with his extraordinary piece The Hundred Year Clock – the first political artwork to win the prize and a hint of the changes on the horizon for the Australian art scene. The following year, 1967 the winner was David Aspden with his hauntingly beautiful and seemingly totally abstract painting Samsara 1967. However, Samara was not what it seemed at first glance. The painting is a veil of colour stained into the raw canvas; a curtain of orange, yellow, pink and red. 'Samsara' is an Indian Sanskrit word relating to the flow of karma, in which the soul is trapped until achieving release. The painting was inspired directly by the act of self-immolation committed by the Buddhist monk, Thich Quang Duc as a protest against the persecution of Buddhists by the South Vietnamese government, and as immortalised in the photographs taken by U.S. photographer Malcolm Browne. The Australian involvement in the Vietnam War was peaking in 1967 and anti-war sentiment was escalating dramatically during that year. Again art, and this time abstraction, was used to make a political statement.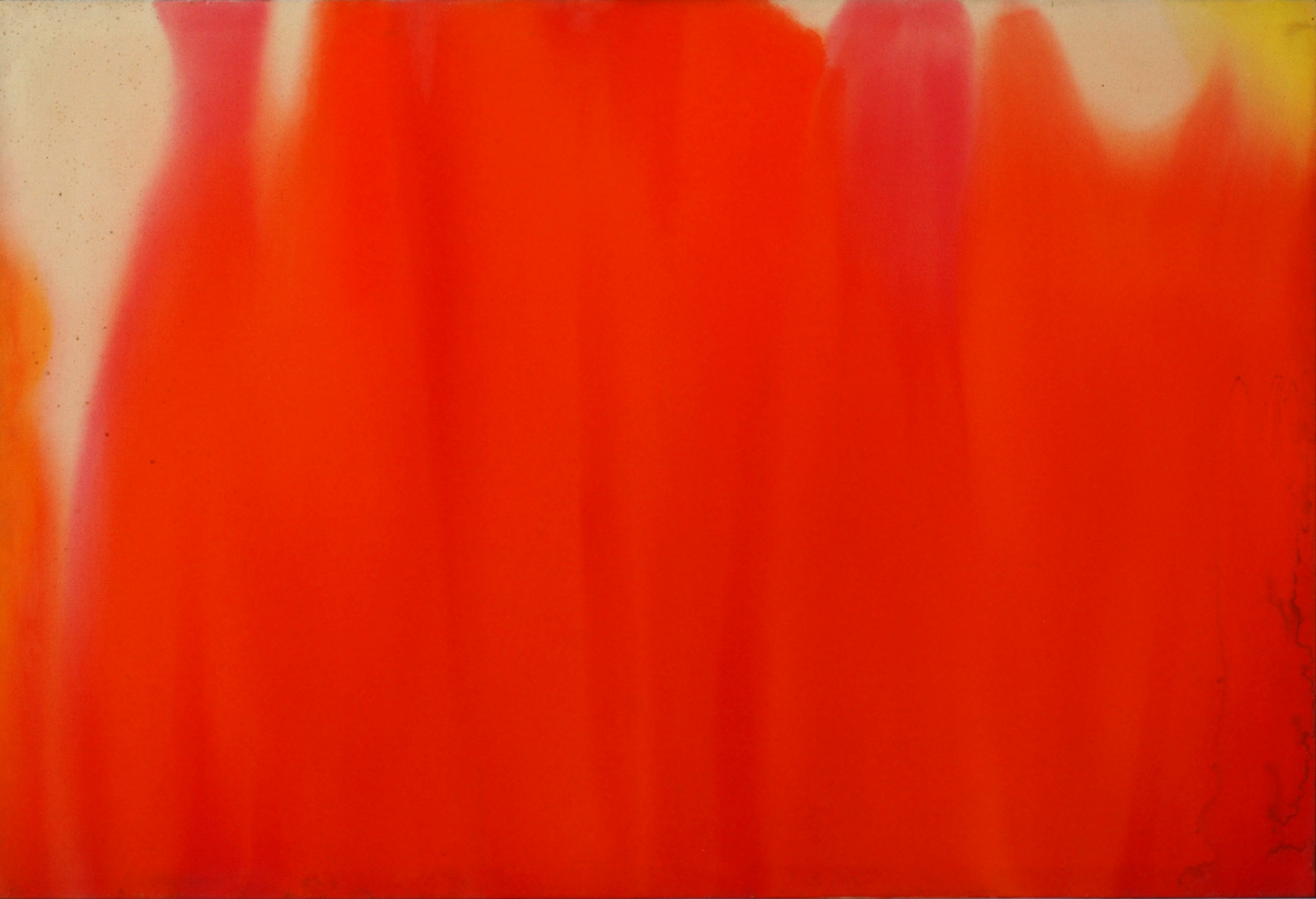 Image: David Aspden, Samsara 1967, acrylic on canvas, 122 x 151cm, Muswellbrook Shire Art Collection, Muswellbrook Regional Arts Centre, Muswellbrook NSW, Winner, Muswellbrook Art Prize 1967, Open Painting Section © Karen Aspden.
These changes to the use of art and painting that were happening alongside the triumph of abstract art in Australia, highlight the use of abstraction by artists. From the earliest abstract paintings of the pre-WWI era to the current practice of abstract artists in the 21st Century, abstraction has been used as much as a stylistic tool as it has been an end in itself. The traces of landscapes, seascapes and figures have continuously been seen within the abstract work. This is very evident in Thomas Gleghorn's work where the abstract form and lines are often based on landscape. In his work he rearranges the landscape to tell us something new about the component parts and the whole. He is often referencing the seemingly barren dry heart of the Australian continent, a subject often tackled by more representational painters, especially since Sidney Nolan's Central Australian series in 1949/50. Gleghorn was like many painters of the 1950s and early 1960s looking at Aboriginal art. This is self-evident in the work which won the Muswellbrook Art Prize in 1960, Arnhem 1 1960. While the central image of Death of Voss 1958 feels symbolic of the struggle of the explorer and his relationship to the land from Patrick White's 1957 novel Voss, the central motif of Arnhem 1 is more directly figurative, and that figure is in a landscape – a landscape that is clearly Aboriginal.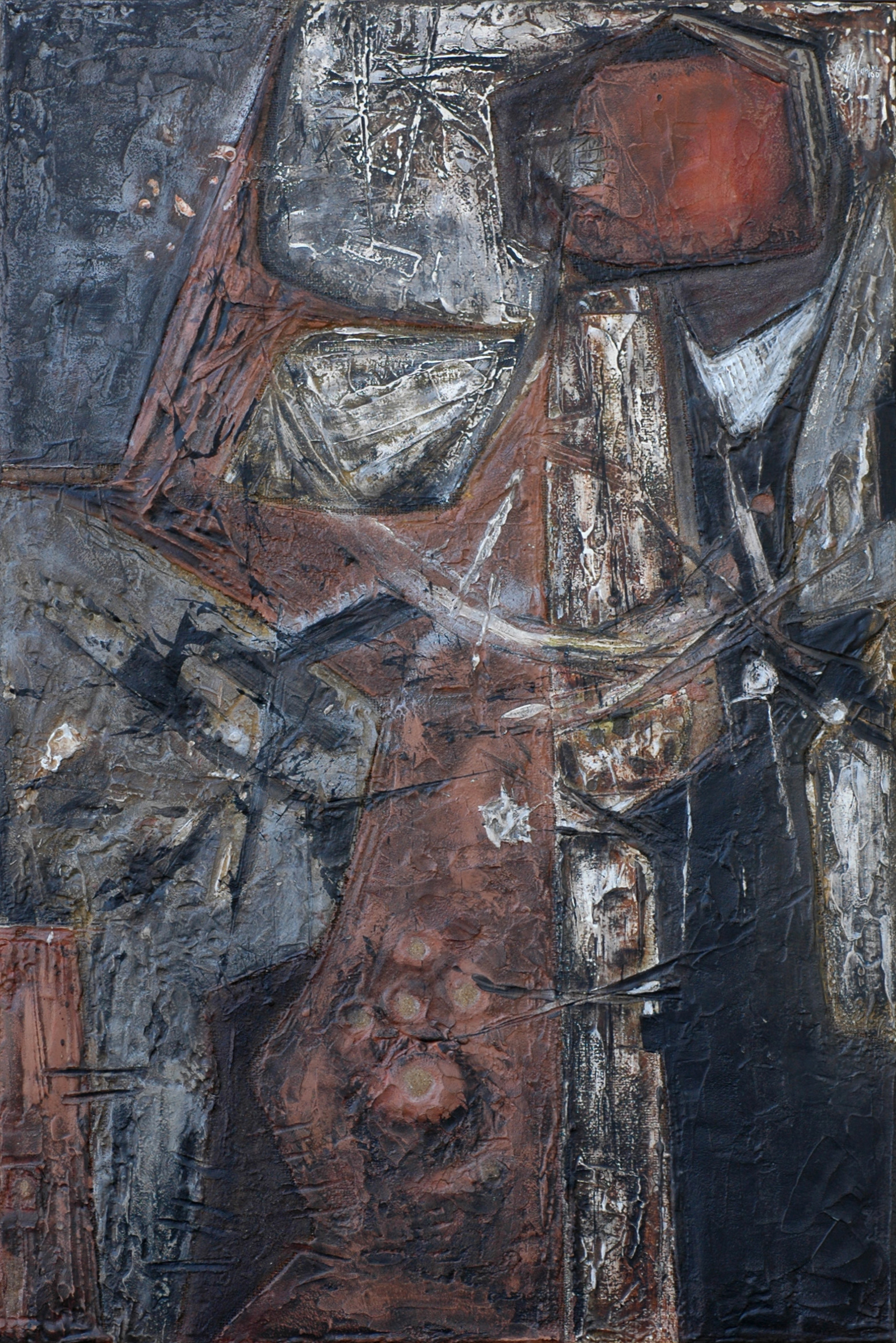 Image: Thomas Gleghorn, Arnhem I 1960, mixed media on hardboard, 137 x 92cm, Muswellbrook Shire Art Collection, Muswellbrook Regional Arts Centre, Muswellbrook NSW, Winner, Muswellbrook Art Prize 1960, Open Section © The artist.
Thomas Gleghorn would go on with abstraction, experimenting and eventually losing something of the dark bleakness of the paintings in the Muswellbrook Shire Art Collection. He became a great master of printmaking and a beloved teacher in his eventual home of South Australia. His contribution to art in Muswellbrook cannot be understated – the importance of the contemporary art exhibition he organised, with his own painting becoming the establishing work of the Muswellbrook collections, and the inspiration that he imparted to the group of supporters and artists that gathered around the nascent Muswellbrook Art Prize. This led in 1976 to the establishment of the Muswellbrook Regional Art Gallery, and later in 2000 the Muswellbrook Regional Arts Centre, and the Prize which continues as one of the richest acquisitive prizes in regional Australia. Max Watters remained a constant through all this and in 2004, donated his entire and extensive collection of Australian art to the people of Muswellbrook to be exhibited in the Muswellbrook Regional Arts Centre. Would the Watters Gallery (1964-2018) have happened without Gleghorn – no doubt it would have but, Gleghorn's avant-garde example – an abstract artist doing well and connected to the art world in Sydney – was certainly an example to follow for the young Frank Watters.
Thomas Gleghorn was only one of many Australian abstractionists to base their work on the figurative and in the landscape. In 1964, Fred Williams won the Muswellbrook Art Prize with Sherbrooke Forest 1964, a painting that many locals referred derisively to as 'the paling fence', after its stern vertical black lines and mottled greens, greys and browns. When you look at Sherbrooke Forest what you first see is an intense abstract – very vertical – but, if you have ever looked into a dense sclerophyll forest of eucalypts, this is exactly what you see. Fred Williams would forever veer between extreme abstracted visions of the Australian landscape and more representational versions of the same. He was able to reinterpret the vision of the Heidelberg School, the first painters of the bush to attempt to see it as it really was and produce that truth through the eye of the abstractionist.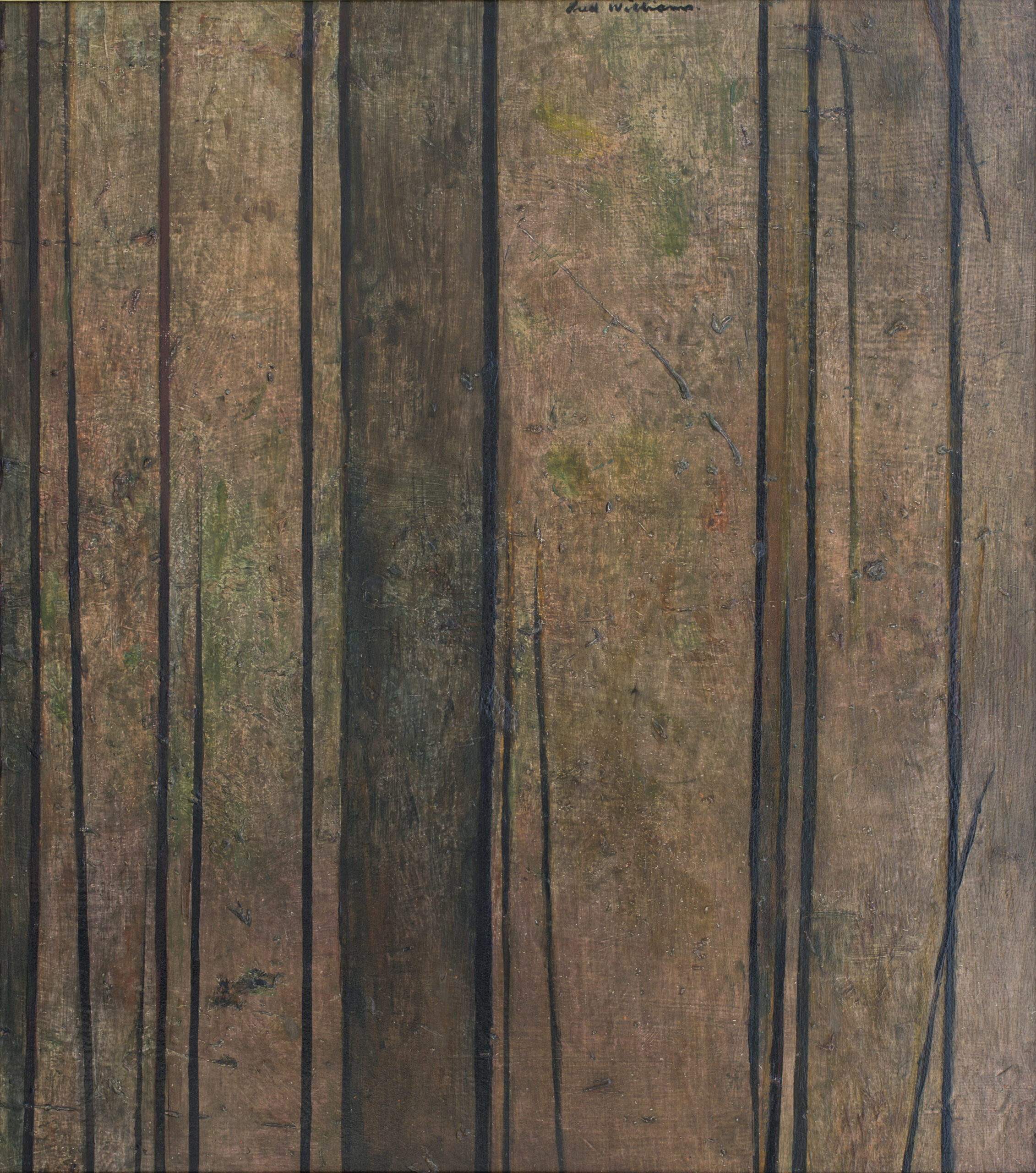 Image: Fred Williams, Sherbrooke Forest 1964, oil on hardboard, 88 x 78cm, Muswellbrook Shire Art Collection, Muswellbrook Regional Arts Centre, Muswellbrook NSW, Winner, Muswellbrook Art Prize 1964, Open Section © The artist.
The great acceptance of abstract art during the 1960s and beyond has been in part due to its beauty as decoration, and in part due to its ability to inhabit the very special space that exists between the representational and the non-representational. This space of becoming and falling apart has been particularly explored by abstract artists in Australia, and especially in the period since the pure abstraction of constructivism and abstract expressionism gave way to kinetic art, op art, minimalism and conceptual art. As David Hockney has said, abstraction is in many ways just another tool at the disposal of the contemporary artist but, in the hands of a very good artist it can be a very good tool indeed.
"While I am doing my paintings I always have my family in mind, I have my country in mind."

– Dorothy Napangardi quoted in the catalogue to the National Gallery of Australia exhibition Know My Name: Know My Art, 2020.
That the viewer could bring to abstract art their own search for meaning has been made all the easier by the referencing of landscape and figurative forms by abstract artists. The traditions of abstract art laid the groundwork for the acceptance and then triumph, of contemporary Aboriginal art from the 1990s onward.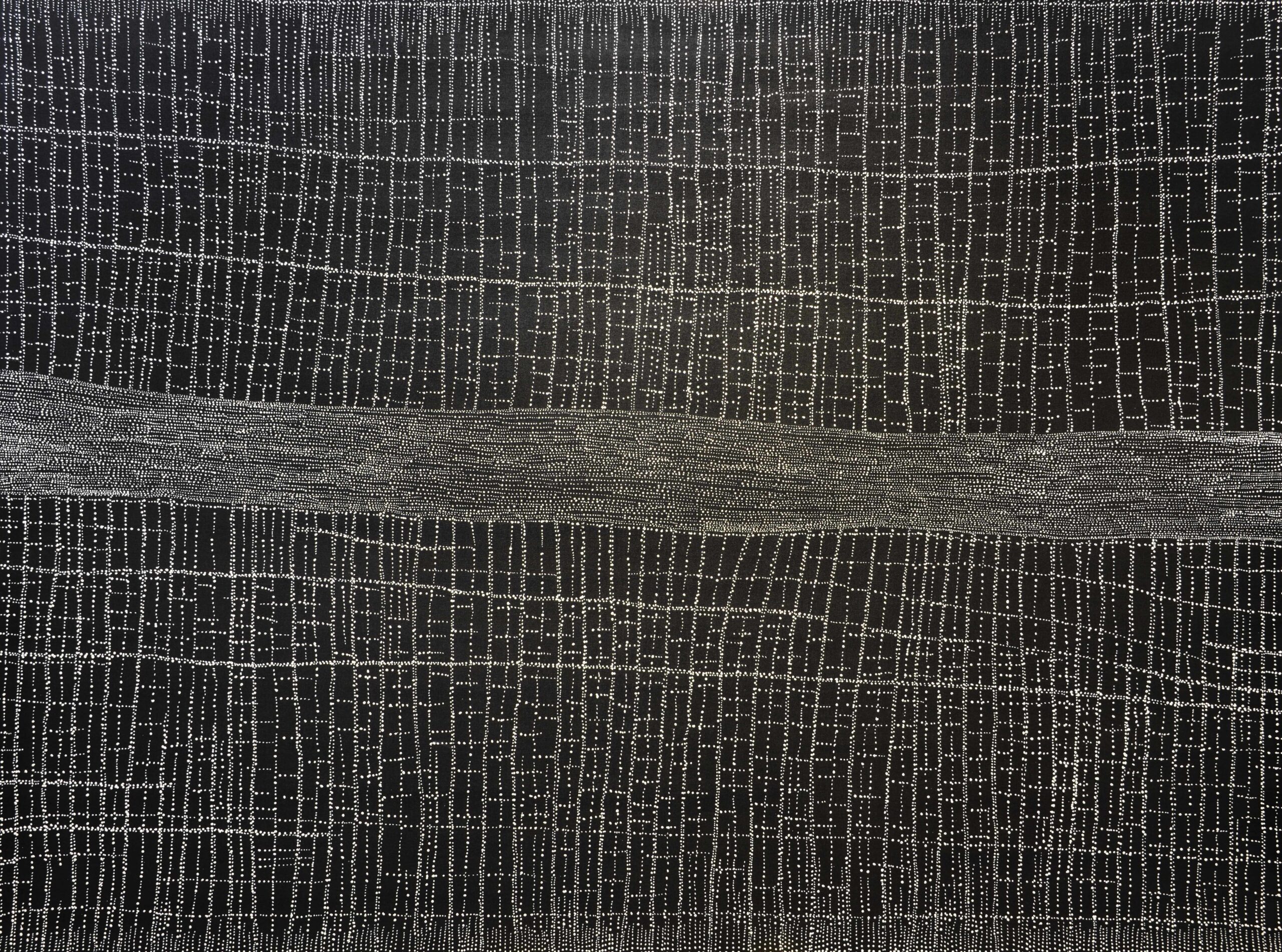 Image: Dorothy Napangardi, untitled Mina Mina V 2010, acrylic on Belgian linen, 183 x 244cm, Muswellbrook Shire Art Collection, Muswellbrook Regional Arts Centre, Muswellbrook NSW, Donated through the Australian Government's Cultural Gifts Program by Guy Wilson © Estate of the artist licensed by Aboriginal Artists Agency Ltd.
While various specialist collectors had taken a serious interest in Aboriginal art, and in particular bark painting, during the late 19th Century, it was almost exclusively from an anthropological/scientific/ historic viewpoint. There were the occasional breakouts during the 20th Century but mainly in isolation; the most well-known being the great Albert Namatjira, his family, and the Hermannsburg artists who broke through in the 1940s and early 1950s with a style of watercolour painting that appealed widely to the Australian public. Their tragedy perhaps was that while they were subverting a Western style of art to their own purposes this was very little realised or understood at the time, even for many years following Namatjira's death in 1959.
The true breakthrough was the Papunya Painting Movement which began quietly in 1971 with the introduction of modern paints and the concept of painting on a support e.g., hardboard or canvas. This created a permanent and saleable commodity for what had previously been transitory, ceremonial and often secret business. The pros and cons of this were quickly divined by the artists and secret information removed or covered up, often in the early years by dots. There was a long, sometimes frustrating developmental period for the Aboriginal artists but, the concept spread, and the obvious conjunction of the Aboriginal art movement with Land Rights, Self Determination, and the growing discontent with their situation within Australian society, saw the Aboriginal art movement become both a political and an economic force.
The acceptance by the viewing public of an art that in almost every way is outside the Western art tradition is due to a number of factors. However, the main reason is that this is an art that is made from and in the land; it has meaning even if that meaning is barely understood or even read by many of the viewing public. Knowing that there is a story – sometimes specific, sometimes vague – is enough. The market and prices for this art is huge and has shown little evidence of waning or even peaking. Exhibitions of Aboriginal art are shown across the world and its acceptance among non-Aboriginal audiences has been extraordinary. Aboriginal art, and in particular the desert art, has become the success story of Australian art and the success story of abstract art, for here is an art that is non-representational, spiritual, mystical, symbolic and at its best, beautiful and powerful, while being based on and in the landscape and the peoples' relationship to that landscape – The Dreaming.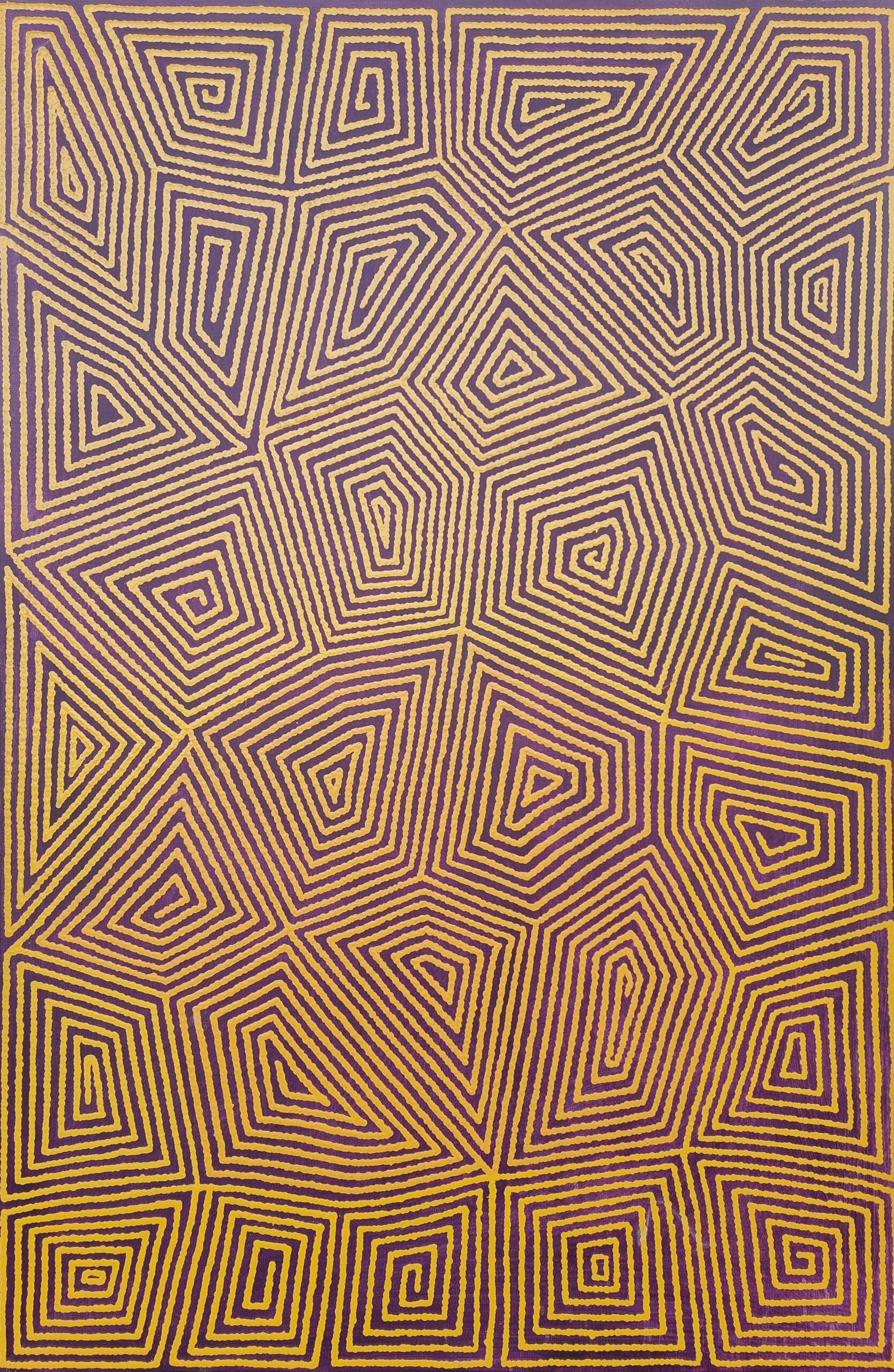 Image: Les Elvin, Spirit of the Night 2007, acrylic on canvas, 153 x 102cm, Muswellbrook Shire Art Collection, Muswellbrook Regional Arts Centre, Muswellbrook NSW, Gift of the artist 2007 © Courtesy of the artist's estate.
References and Further Reading
Allen, Christopher. Art in Australia: From Colonization to Postmodernism. London: Thames and Hudson Ltd., 1997.
Arnason, H.H. A History of Modern Art: Painting, Sculpture, Architecture. London: Thames and Hudson Ltd., 1969.
Atken, Sally. Nolan. Ultimo: Australian Broadcasting Commission, 2018.
Bowness, Alan. Modern European Art. London: Thames and Hudson Ltd., 1972.
Bullock, Natasha, Kelli Cole, Deborah Hart, and Elspeth Pitt. Know My Name: Know My Art. Canberra: National Gallery of Australia, 2020.
Caruna, Wally. Aboriginal Art. London: Thames and Hudson Ltd., 1993.
Catalano, Gary. The Years of Hope: Australian Art and Criticism 1958-1968. Melbourne: Oxford University Press, 1981.
Chanin, Eileen and Steven Miller. Degenerates and Perverts: The 1939 Herald Exhibition of French and British Contemporary Art. Carlton: The Miegunyah Press, 2005.
Draffin, Nicholas. Two Masters of the Weimar Bauhaus: Lyonel Feininger/Ludwig Hirschfeld Mack. Sydney: Art Gallery of New South Wales, 1974.
Eagle, Mary and John Jones. A Story of Australian Painting. Sydney: Pan Macmillan Publishers Australia, 1994.
Edwards, Deborah and Denise Mimmocchi. Sydney Moderns: Art for a New World. Sydney: Art Gallery of New South Wales, 2013.
Ehrlich, Doreen. The Bauhaus. USA: The Mallard Press, 1991.
Erskine, James and Terence Maloon. Australian Paintings from the James & Jacqui Erskine Collection. Canberra: ANU Drill Hall Gallery Publishing, 2015.
Everitt, Anthony. Abstract Expressionism. London: Thames and Hudson Ltd., 1975.
Fuller, Peter. Beyond the Crisis in Art. London: Writers and Readers Publishing Cooperative Ltd., 1980.
Germaine, Max. Artists & Galleries of Australia. Roseville: Craftsman House, 1990.
Gleeson, James. William Dobell. London: Thames and Hudson Ltd., 1964.
Haese, Richard. Rebels and Precursors: The Revolutionary Years of Australian Art. Ringwood: Penguin Books Australia, 1981.
Hockney, David and Martin Gayford. A History of Pictures: From the Cave to the Computer Screen. London: Thames and Hudson Ltd., 2016.
Hughes, Robert. The Art of Australia. Revis ed. Ringwood: Penguin Books Australia, 1970.
Hughes, Robert. The Shock of the New: Art and the Century of Change. London: British Broadcasting Corporation, 1980.
Hylton, Jane. Modern Australian Women: Paintings & Prints 1925-1945. Adelaide: Art Gallery of South Australia, 2000.
Isaacs, Jennifer. Aboriginality: Contemporary Aboriginal Painting & Prints. Revis ed. St. Lucia: University of Queensland Press, 1992.
Jaffe, Hans L.C. De Stijl. New York: Harry N. Abrams Inc., 1967.
James, Bruce. Australian Surrealism: The Agapitos/Wilson Collection. Roseville: The Beagle Press, 2003.
Janson, H.W., ed. Modern American Painting. Amsterdam: Time-Life Books, 1970.
Johnson, Anna. Ann Thompson. Woollahra: Tim Olsen Editions, 2012.
Klee, Paul. The Inward Vision: Watercolours, Drawings, Writings. London: Thames and Hudson Ltd., 1958.
Krens, Thomas and Lisa Dennison. Masterpieces from the Guggenheim. New York: Guggenheim Museum, 1991.
Kroeger, John. Australian Artists. Adelaide: Renniks & Co. Pty. Ltd., 1968.
Kuspit, Donald. The End of Art. Cambridge: Cambridge University Press, 2004.
Licht, Jennifer. Some Recent American Art. Melbourne: National Gallery of Victoria, 1973.
Lloyd, Michael, Ted Gott, and Christopher Chapman. Surrealism: Revolution by Night. Canberra: National Gallery of Australia, 1993.
Lucie-Smith, Edward. Movements in Art since 1945. Revis ed. London: Thames and Hudson Ltd., 1975.
Luck, R.K. A Guide to Modern Australian Painting. Melbourne: Sun Books Pty. Ltd., 1969.
Lynn, Elwynn and Sidney Nolan. Sidney Nolan-Australia. Sydney: Bay Books, 1979.
McCaughey, Patrick. Ten Australians: Europe 1974/1975. Canberra: Visual Arts Board, 1974.
Murphy, Bernice. Australian Perspecta 1981: A Biennial Survey of Australian Contemporary Art. Sydney: Art Gallery of NSW, 1981.
Murphy, Bernice and Janet Parfenovics. Australian Perspecta 1983: A Biennial Survey of Australian Art. Sydney: Art Gallery of NSW, 1983.
Naifeh, Steven and Gregory White Smith. Jackson Pollock; An American Saga. London: Barrie & Jenkins Ltd., 1990.
Parr, Lenton. The Arts in Australia: Sculpture. Croydon: Longmans, Green and Co. Ltd., 1961.
Pringle, John Douglas. Australian Painting Today. London: Thames and Hudson Ltd., 1963.
Reed, John. The Arts in Australia: New Painting 1952-62. Croydon: Longmans, Green and Co. Ltd., 1963 .
Reed, John. The Arts in Australia: Australian Landscape Painting. Croydon: Longmans, Green and Co. Ltd., 1965.
Riedl, Peter Anselm. The Masters Volume 28: Kandinsky. Bristol: Purnell & Sons Ltd., 1966.
Rorimer, Anne. New Art in the 60's and 70's: Redefining Reality. London: Thames and Hudson Ltd., 2001.
Rumley, Katrina. Fifty Plus: Half a century of collecting at Muswellbrook Regional Arts Centre. Muswellbrook: Muswellbrook Regional Arts Centre, 2008.
Seitz, William C. Art in the Age of Aquarius 1955-1970. Washington: Smithsonian Institute, 1992.
Stangos, Nikos, ed. Concepts of Modern Art: From Fauvism to Postmodernism. 3rd ed. London: Thames and Hudson Ltd., 1994.
Stein, Gertrude. Picasso. London: B.T. Batsford Ltd., 1938.
Stephen, Anne, Philip Goad, and Andrew McNamara. Modern Times: The Untold Story of Modernism in Australia. Carlton: The Miegunyah Press, 2008.
Thomas, Daniel. Outlines of Australian Art: The Joseph Brown Collection. South Melbourne: The Macmillan Company of Australia Pty. Ltd., 1973.
Thomas, Daniel, Terence Maloon, Renee Free, and Geoffrey Legge. Tony Tuckson. Revis ed. Fisherman's Bend: Craftsman House, 2006.
Tuchman, Maurice. The New York School: Abstract Expressionism in the 40's and 50's. London: Thames and Hudson Ltd., 1971.
Weston, Neville. Kaleidoscope of Modern Art. Revis ed. London: George G. Harrap & Co. Ltd., 1972.
Whitford, Frank. Bauhaus. London: Thames and Hudson Ltd., 1984.
Wiehager, Renate. Minimalism and After. Berlin: DaimlerChrysler Contemporary, 2002.